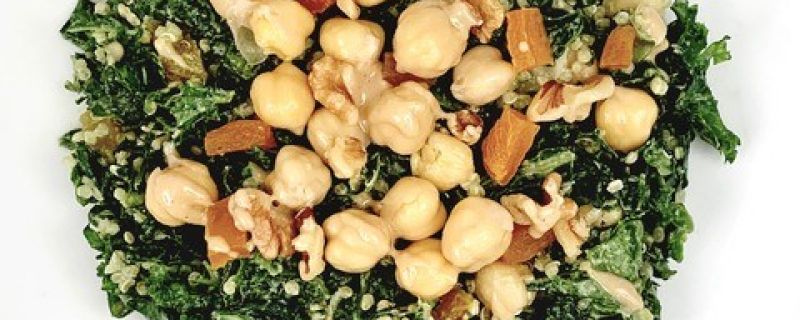 Ingredients:
For the salad:
10 oz kale, chopped, de-stemmed, and steamed
1 cup dry quinoa, cooked
1 15 oz can chickpeas, drained and rinsed
1⁄4 cup chopped walnuts, toasted
1⁄3 cup dried apricots, chopped
For the tahini dressing:
2 tablespoons tahini
2 tablespoons lemon juice
1 teaspoon maple syrup
1⁄4 teaspoon salt
2 tablespoons water
Instructions:
In a small bowl, whisk together all dressing ingredients. In a large bowl, add kale and massage half of the dressing into the kale. Add quinoa, chickpeas, walnuts, apricots, and remaining dressing and mix to combine.
Yields: 4 servings
Per serving: 404 calories, 16.4 g protein, 59.1 g carbohydrates, 11.2 g fiber, 12.4 g sugars, 13.8 g fat, 1.5 g saturated fat, 0 g trans fat, 0 mg cholesterol, 313 mg sodium, 180 mg calcium, 1 g omega-3 fats, 7105 IU vitamin A, 88.6 mg vitamin C, 2.9 mg vitamin E, 4.5 mg iron, 2.7 mg zinc