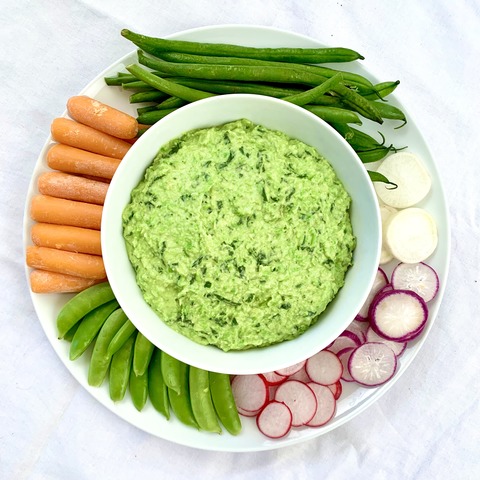 Recipe:
Take in the fresh flavors of spring with this creamy, herby dip and crunchy vegetables. The dip is based around peas, which provide a vibrant green color and subtle sweetness.
Peas and cannellini beans offer fiber and protein to make this a satiating snack. Tahini, a nutty paste made from ground sesame seeds, is an excellent source of iron and calcium. Iron may help protect against brittle hair by aiding in oxygen delivery to hair follicles. Calcium is an essential beauty nutrient for strong bones, long nails, and a beautiful smile.
Ingredients:
For the dip:
2 cups frozen green peas, cooked
1 15 oz can cannellini beans, drained and rinsed
1 packed cup fresh basil leaves
3 cloves garlic
3 tablespoons lemon juice
2 tablespoons tahini
½ teaspoon salt
For the vegetables:
1 cup baby carrots
1 cup radishes
1 cup sugar snap peas
1 cup green beans
Instructions:
To make the dip, combine all ingredients in a food processor and blend until smooth. Serve with the assorted vegetables for dipping.
Yields Serve 8
Per serving: 127 calories, 7 g protein, 20.4 g carbohydrates, 7.8 g fiber, 4.7 g sugars, 2.2 g fat, 0.3 g saturated fat, 0 g trans fat, 0 mg cholesterol, 281 mg sodium, 89 mg calcium, 0.1 g omega-3 fats, 5136 IU vitamin A, 13.5 mg vitamin C, 0.1 mg vitamin E, 2.4 mg iron, 0.6 mg zinc