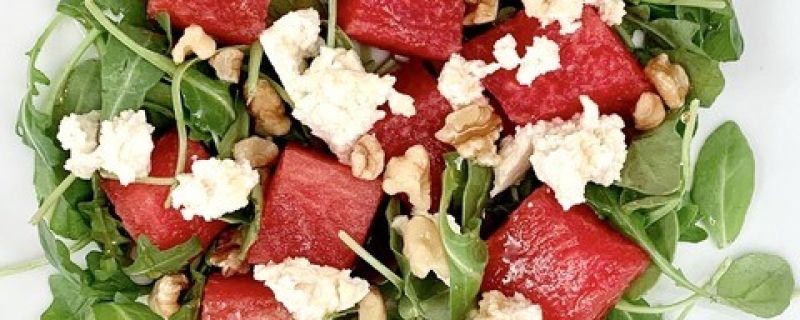 Ingredients:
4 cups arugula
4 cups cubed watermelon
1⁄2 cup crumbled goat cheese
1⁄4 cup toasted walnuts
4 teaspoons lime juice
4 teaspoons honey
Instructions:
On each plate, add 1 cup of arugula and 1 cup of watermelon. Top each plate with 2 tablespoons of crumbled goat cheese and 1 tablespoon of chopped walnuts. Drizzle each salad with 1 teaspoon of lime juice and 1 teaspoon of honey.
Yields: 4 servings
Per serving: 185 calories, 6.7 g protein, 19.6 g carbohydrates, 1.5 g fiber, 16 g sugars,10.3 g fat, 4 g saturated fat, 0 g trans fat, 13 mg cholesterol, 83 mg sodium, 129 mg calcium, 0.7 g omega-3 fats, 1342 IU vitamin A, 17 mg vitamin C, 0.3 mg vitamin E, 1.2 mg iron, 0.7 mg zinc