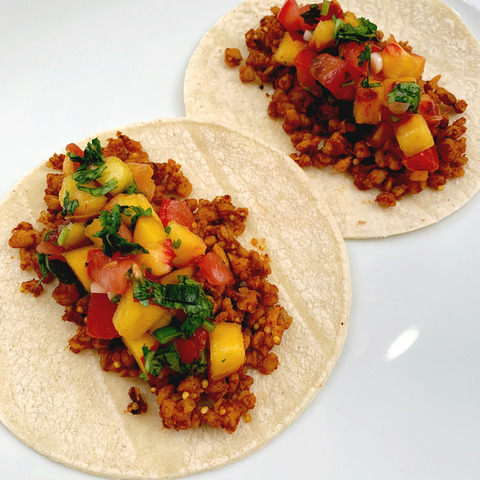 Recipe:
This exciting yet easy dinner is full of different textures and flavors. Crumbled spiced tempeh "meat" is topped with a fresh and tangy peach salsa and wrapped in a soft corn tortilla.
Tempeh is a high-protein meat substitute made from fermented soybeans. Similar to tofu, it will take on whatever flavors it is cooked with. Peaches add a touch of sweetness to this dish and provide anti-aging vitamin C.
Ingredients:
For the tempeh tacos:
1 tablespoon extra virgin olive oil
1 8 oz package tempeh, crumbled
2 tablespoons less sodium soy sauce
1 tablespoon lime juice
2 teaspoons maple syrup
1 tablespoon chili powder
1 teaspoon smoked paprika
1 teaspoon cumin
½ teaspoon garlic powder
½ teaspoon onion powder
8 corn tortillas
For the peach salsa:
1 large tomato, chopped
2 small peaches, chopped
2 scallions, sliced
½ cup cilantro, chopped
2 tablespoons lime juice
¼ teaspoon salt
Instructions:
Heat olive oil in a medium-sized pan over medium heat. Add crumbled tempeh, soy sauce, lime juice, maple syrup, chili powder, paprika, cumin, garlic powder, and onion powder and sauté for about 5 minutes, until all liquid has evaporated and tempeh is crispy.
In a medium-sized bowl, combine tomato, peaches, scallions, cilantro, lime juice, and salt. Adjust seasoning as needed. Divide the tempeh taco meat mixture between the tortillas and top with a few spoonfuls of the peach salsa.
Yields Serve 4
Per serving (2 tacos per serving): 307 calories, 15.5 g protein, 39.5 g carbohydrates, 5.2 g fiber, 10.9 g sugars, 11.4 g fat, 1.9 g saturated fat, 0 g trans fat, 0 mg cholesterol, 455 mg sodium, 89 mg calcium, 0.2 g omega-3 fats, 1008 IU vitamin A, 16.1 mg vitamin C, 1.3 mg vitamin E, 2.2 mg iron, 1 mg zinc