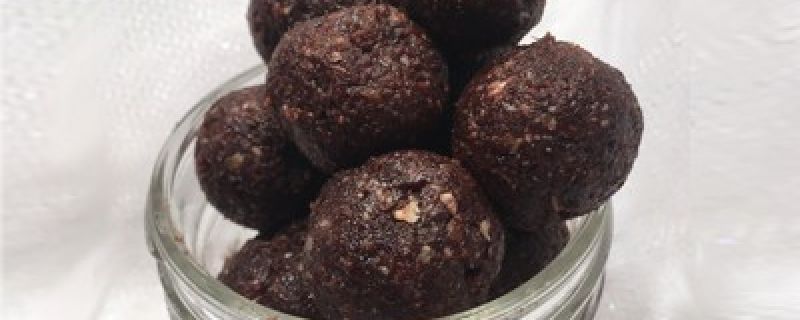 Ingredients:
1⁄2 cup rolled oats
1⁄2 cup walnuts
2 tablespoons cocoa powder
1⁄8 teaspoon salt
1⁄4 teaspoon vanilla extract
2⁄3 cup medjool dates, pitted and chopped
Instructions:
In a high-speed blender or food processor, blend oats, walnuts, cocoa powder, and salt until there are no large chunks. Add the dates and toss them in the oat mixture to coat them so they don't stick to each other. Add the vanilla extract and blend until a smooth dough forms. Roll small portions of the dough into balls. Place the balls in the fridge for at least one hour to chill.
Yields: 8 servings
Per serving: 137 calories, 3 g protein, 21 g carbohydrates, 3 g fiber, 12 g sugars, 6 g fat, 1 g saturated fat, 0 g trans fat, 0 mg cholesterol, 53 mg sodium, 21 mg calcium, 0 mg omega-3 fats, 0 mcg vitamin A, 0 mg vitamin C, 0 mg vitamin E, 1 mg iron, 1 mg zinc