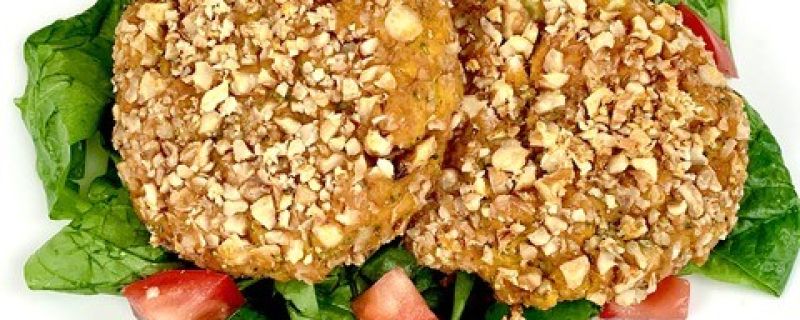 Ingredients:
2 medium-sized sweet potatoes
1 15 oz can cannellini beans, drained and rinsed
1⁄2 teaspoon salt
1 teaspoon garlic powder
1 head broccoli, finely chopped
2 scallions, finely sliced
1 cup walnuts, finely chopped
Optional: side salad to serve the cakes over
Instructions:
Preheat the oven to 425 degrees Fahrenheit and line a baking sheet with parchment paper. Place sweet potatoes on the lined baking sheet and bake for 45 minutes to 1 hour, until soft. Remove sweet potatoes from the oven and lower the oven temperature to 350 degrees Fahrenheit.
In a large bowl, mash beans fully. Add sweet potatoes and mash until smooth. Stir in salt, garlic powder, broccoli, and scallions. Form this mixture into 8 cakes and coat each cake in the walnuts. Place cakes on the baking sheet used to bake the sweet potatoes and return to the oven for 20-25 minutes, until walnuts are slightly golden.
Yields: 4 servings
Per serving: 363 calories, 13.3 g protein, 37 g carbohydrates, 13.3 g fiber, 5.1 g sugars, 19.7 g fat, 1.9 g saturated fat, 0 g trans fat, 0 mg cholesterol, 500 mg sodium, 151 mg calcium, 2.8 g omega-3 fats, 9410 IU vitamin A, 29.9 mg vitamin C, 0.4 mg vitamin E, 3.2 mg iron, 1.3 mg zinc