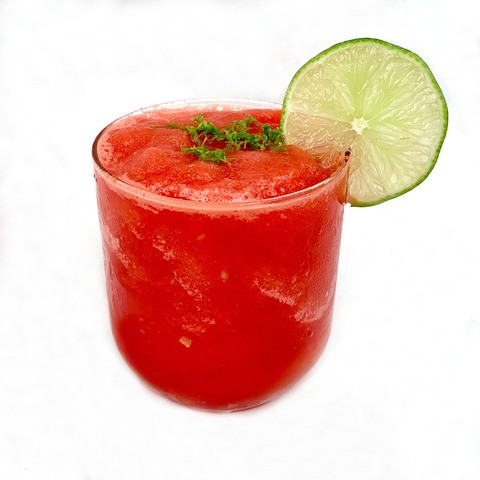 Recipe:
Slushies are the ultimate refreshing summer treat, and you can make one easily at home! Frozen watermelon blends up into the perfect frothy texture, and its fruity flavor is enhanced by a touch of tangy lime. This kid-friendly drink also serves as an edible sunscreen: watermelon is a great source of the antioxidant lycopene, which may help protect skin against sunburn.
Ingredients:
2 cups watermelon, frozen
Juice and zest from 1 large lime
1 tablespoon agave nectar or honey
1⁄2 cup water (and more as needed)
Instructions:
To freeze watermelon, place seedless watermelon cubes on a baking sheet and place in freezer for a few hours or until firm. Blend together frozen watermelon, lime juice and zest, agave nectar, and water until smooth, adding more water if needed. Top with additional lime zest and lime slices, if desired. Serve immediately (it will melt).
Yields: 2 servings (about 6 oz each)
Per serving: 82 calories, 1 g protein, 21.6 g carbohydrates, 0.8 g fiber, 17.9 g sugars, 0.3 g fat, 0 g saturated fat, 0 g trans fat, 0 mg cholesterol, 2 mg sodium, 15 mg calcium, 0 g omega-3 fats, 877 IU vitamin A, 20.4 mg vitamin C, 0.1 mg vitamin E, 0.4 mg iron, 0.2 mg zinc