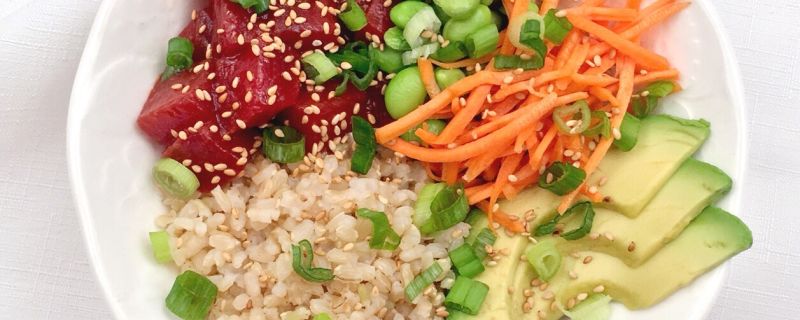 Ingredients:
For the watermelon "tuna":
6 heaping cups cubed watermelon
2 tablespoons seasoned rice vinegar
1 tablespoon extra virgin olive oil
1 teaspoon toasted sesame oil
3 tablespoons low-sodium soy sauce, divided
1⁄2 tablespoon fresh grated ginger
2 tablespoons lime juice
For the poke bowl:
1 cup dry short-grain brown rice, cooked
1 large avocado, sliced
1 1⁄2 cups shredded carrots
1 1⁄2 cups cooked edamame
4 scallions, chopped
2 tablespoons sesame seeds, toasted
Instructions:
Preheat oven to 375 degrees Fahrenheit and line a large baking sheet with parchment paper. Place the cubed watermelon in one layer on the lined baking sheet. In a small bowl, whisk together the rice vinegar, olive oil, sesame oil, and 1 tablespoon of the soy sauce. Pour this marinade over the watermelon and bake for 45 minutes, stirring the watermelon cubes around every 15 minutes. In a large container, combine remaining 2 tablespoons of the soy sauce, ginger, and lime juice. Add the cooked watermelon cubes and the liquid that has been released from them and stir to combine. Let marinate in the refrigerator overnight.
To assemble the bowls, divide the rice, avocado, carrots, edamame, scallions, and the marinated watermelon "tuna" between six bowls. Pour some of the remaining marinade on top of each bowl to season the rice and vegetables. Top each bowl with 1 teaspoon toasted sesame seeds.
Yields: 6 servings
Per serving: 300 calories, 9.66 g protein, 45.46 g carbohydrates, 7.12 g fiber, 12.77 g sugars, 11.45 g fat, 1.2 g saturated fat, 0 g trans fat, 0 mg cholesterol, 451.33 mg sodium, 56.46 mg calcium, 0.17 g omega-3 fats, 3418 IU vitamin A, 20.97 mg vitamin C, 0.85 mg vitamin E, 2.29 mg iron, 0.88 mg zinc